Meet Scott Sinclair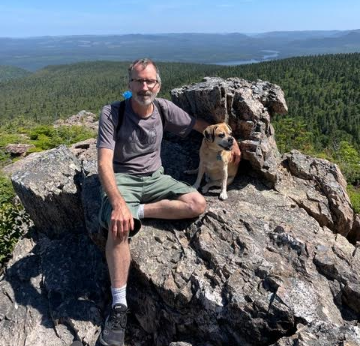 Natura Solutions' president, Scott Sinclair, is an industry pioneer with almost 40 years of development experience. Scott earned his Bachelor of Math degree from the University of Waterloo in 1984, concentrating his studies in Computer Science. Shortly after graduation Scott joined Software AG of Canada and before long was managing their Product Development team. Scott spent 14 years at Software AG before starting Natura Solutions. During this time he invented and led the development of a product called Natural Construct. This is a code generation tool used to build sophisticated Natural applications by integrating generated components. Three decades later there are still many companies around the world using Natural Construct and utilizing much of the same code that Scott developed back in the 90s.
Much of Scott's career has involved the development of software tools and utilities designed for programmers. He has a passion for creating software that is used to simplify the building of complex systems and for ensuring that quality is an inherent part of the methodology by which software is developed. A key aspect of this methodology is to build components at a higher level of abstraction than the code level. Coding is difficult for most people and it is extremely error prone. When large complex systems are built from scratch it can take years or even decades to iron out all of the bugs that get introduced by an average team of developers. The only way to solve this problem is to reduce the amount of new code that needs to be written by leveraging frameworks and generation technology.
Scott's latest initiative is a product named GenHelm. This is a multi-user, web-based tool and application framework used to build websites. This tool adopts a similar approach to what was so successful with Natural Construct. That is, it:
Recognizes the fact that almost all computer systems are basically just a means to maintain and/or display data (of all sorts).
Concentrates on patterns and components that are ubiquitous in most websites (such as Navigation Menus, Lists, FAQ Pages, Images, Videos, Glossaries, Carousels, Tabbed Controls, Forms, Queries, etc.) and makes these pervasive components ridiculously easy to create without coding or even knowing HTML or JavaScript.
Allows these typical components to be maintained at the specification level (not the code level). This means that generators are not intended to crank out code that you maintain by hand. Instead, the specification used to generate the code evolves throughout the life of the generated components and changes to the components are made by updating the specification (and regenerating the components).
Incorporates the flexibility to easily supplement generated code with custom code in order to handle unique or complex requirements that are beyond the scope of the generators.
Embraces object orientation by layering new classes on top of well-defined reusable components.
The end result is a product that satisfies these key design goals:
Allow web systems to be built is a fraction of the time needed to build systems using traditional methods.
Leverage reusable components as a means of reducing and even eliminating the possibility of system bugs.
Enable less experienced, average developers to create systems far beyond their inherent capability.
Allow skilled and experienced developers to concentrate on solving business problems rather than spending all of their time focused on technical issues.
Over the past decade, GenHelm has evolved from an internal application used by Natura Solutions to build websites into a product that will be available for sale in the coming months.